Two industrial relays controlled by RS232 serial port commands. Control lights, pumps, motors, Hallowe'en displays, theater props and more.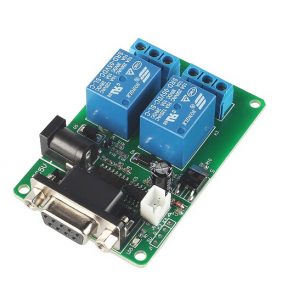 We provide a Control Software program  for Windows for your own application. Also comes with full documentation making it possible to write your own software to control relays from your PC, remote control via RS232 serial, etc. We are also available to write custom software on request if needed.
In addition to the Windows control software for the relay board, we provide a program to control it from the command line. This makes it easy to script the behavior from a batch file. You can download the executable directly, or pull the source code repository from github if you want to make changes.
A 5 volt DC power source is required. Our PS5V3 power supply is a great addition.
Overseas orders welcome. Contact us for shipping options