When you must monitor liquid flow at multiple points the FM6 multi-channel RS232 counter is what you need. The FM6 accepts inputs from digital pulse and mechanical contact-closure type flow meters and pulsers. It provides the totalized count for each input channel as easy to read text sent from the onboard RS232 serial port.
The FM6 accepts up to 6 pulse-output flowmeters. The pulse inputs are filtered for reliable operation with older mechanical reed-switch pulsers. In addition, 12 digital inputs are provided for additional convenience in reading sensors such as float switches or operator feedback pushbuttons. Need to control flow or switch relays from an RS232 serial port? There are 8 digital output drivers for solenoid valves or relay switching.
For ease of monitoring and hookup, all flow input, digital input, and digital output states are displayed on bright red LEDs.
All signals except for the RS232 serial communication are brought to the provided 28-pin circular (Cannon-style) connector. Serial communication to the PC is provided by a separate DE9 connector. Connector pinouts are documented for you to make your own cables, or you can purchase our wire harnesses. Custom cabling is available by special order.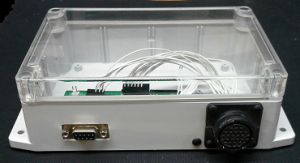 Specifications
Flow inputs: pulse or switch closure with 820 ohm pullup to +5V
Number of flow channels: 6
Number of digital inputs: 12
Number of digital outputs: 8
Max. Pulse rate: 1,000 pulses/second
Outputs: 350mA per output open-collector
Power requirements: 50mA @ 12VDC
Size: 8x6x2 inches with 4 corner mounting holes
Flowmeter Reader FM6…………………………………………………………$325.00