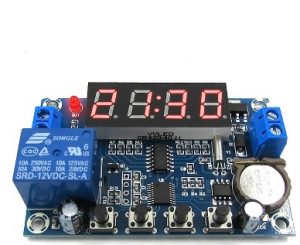 Need a timer for a remote location with no AC current present?  Turn your lighting or controls on and off automatically at any time of day.
This timer works from any 12 volt DC source and it will will run in your boat, truck, RV/Camper or the like. Use it in remote barns and sheds with only battery or solar power.
High current relay will turn lighting and electrical loads on and off cleanly.
Precise to within one second of timing using a highly accurate quartz crystal timebase. Set any time to turn on or off over a 24-hour period. The included Real Time Clock comes with a battery back up to maintain timing when power is turned off.
$22.99 including shipping to US. Clear English instructions included.
Overseas orders welcome. Contact us for additional shipping costs.