PRT232: Flowmeter reader/counter with RS232 data connection
The PRT-232 combines multiple types of I/O in a single device. It has a single counter channel, three digital inputs and eight high-current digital outputs. All of these features are available from the standard RS232 serial interface.
RS232 cables can be run a much greater distance than USB. Special device drivers are not needed and you can communicate with the hardware using simple text commands to set outputs and read counts and monitor inputs.
The high speed counter channel will count input pulses from a variety of automated devices. It can be used as any of the following:
Flowmeter reader
Conveyor count sensor
Pump stroke counter
Shaft rotation
Fuel/fluid rate pulsers
The input channels read digital inputs from switches and sensors.
Eight high power digital outputs will control relays, solenoid valves and indicator lights
Communication is by RS232 serial connection to host PC over DE9 connector. The serial interface is also fully documented so you can integrate the PRT232 into your own custom written software. We provide a software package to read and display the data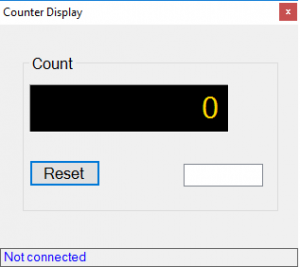 The unit is customizable to your needs at minimal cost. We can provide cables for all I/O to attach to the sensor of your choice.
Complete wire harnesses with CPC (Circular Plastic Connector) industrial terminations assembled to your specification can also be built. or other I/O can be added at your request.
The counter is mounted in a heavy duty polycarbonate enclosure that can be screwed to a wall or instrument panel. This is a NEMA4 (washdown proof) enclosure and is ideal for industrial
applications or installations where a bare circuit board can be damaged. A power jack and RS232 DE9 connector are accessible from the bottom panel and a cable for the pulse input signal is included. A power indicator LED is on the front panel.
PRT232E………………………………………………………..$129.00
IOCTL232: I/O controller with RS232 serial connection
This is a bare board version of the PRT232 above. It's the same RS232 pulse counter with digital inputs and solenoid driver outputs but without cabling and enclosure. It is perfect for housing in your own custom enclosure.
Specifications
Counts pulse inputs at up to 1,000 pulses/second
Open collector pulse input with 820 ohm pullup to +5V
0/5V switch input with pullup to +5V
Outputs: 350mA per output open-collector
Outputs will drive eight relays, or eight high-power LEDs or two RGB LED strips
Power requirements: 30mA @ 7-20VDC
Size: 3.4×2.2 inches with 4 corner mounting holes
I/O Controller (bare)
IOCTL232…………………………………………………………$45.00